chiiild is a Toronto-based South Asian artist whose work bridges the past self with future by metamorphosing a deeper theta realm of the subconscious into reclaimed identity by way of truth-seeking.
Spray painted on canvas, a child-like restlessness echoes the blur of repressed memories, labels, emotions from masking, anxiety, shame, fear, failure and imposter syndrome turning pain into strength, negative into positive and denial into acceptance — all mired in a self-deprecating mess.
Mirroring our own imperfections and shortcomings, chiiild provokes us to embrace them, have the freedom to navigate around them and the courage to find our true selves on the path to self-discovery.
Instagram
@chiiild.art
chiiild.artist@gmail.com
exhibitions
2024


DesignTO Festival 2024 / Solo
19–28 January 2024
Show Gallery
Toronto, Canada
2023


Fight for Kindness / Group
Nov 2023–Jan 2024
Coffee Syndicate
Sofia, Bulgaria
House of Lucie Art Gallery
Budapest, Hungary
Naba Rome Library
Rome, Italy
Naba Milano Library
Milan, Italy
Royal Leamington Spa College
Leamington Spa, UK
Junior High Los Angeles
Los Angeles, US

Toronto Outdoor Art Fair / Solo
7–9 July 2023
Nathan Phillips Square
Toronto, Canada

Swash & Serif Typography / Group
17–23 August 2023
Northern Contemporary Gallery
Toronto, Canada
two stars and a smiley
10 artworks. 24 in (w) x 36 in (h)
spray paint on canvas
gallery wrap on wooden stretcher bars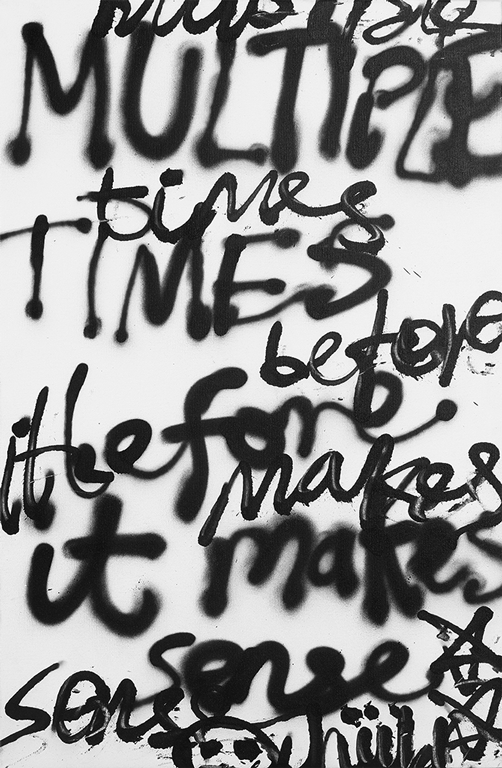 acts over opinions
12 artworks. 24 in (w) x 36 in (h)
spray paint on canvas
gallery wrap on wooden stretcher bars
winners and losers have the same goals
15 artworks. 24 in (w) x 36 in (h)
spray paint on canvas
gallery wrap on wooden stretcher bars